This is a review of my experiences with the Key smartcard over the last year.
You can use the Key to hold Travelcards for most Southeastern, Southern, Thameslink and Great Northern Rail services around London. You can also choose to activate the KeyGo feature which lets you have pay-as-you-go travel on some of these services.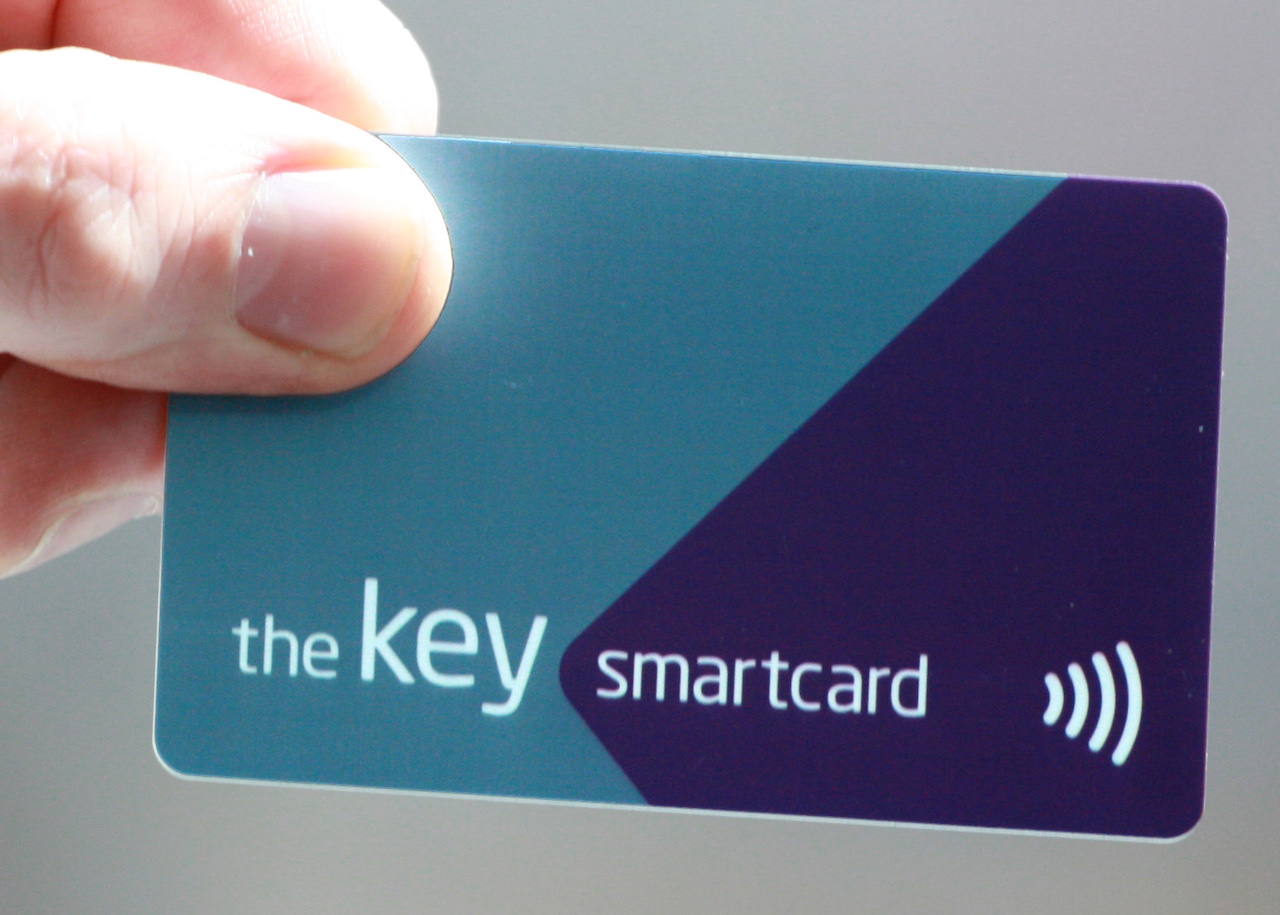 Convenient Season Tickets
If you use paper season tickets, the Key provides a hard-wearing alternative that you can load tickets on to without having to queue for at a station. Once you buy a ticket online it can be collected at the station in two hours by tapping on the gates.
It also makes applying for compensation for a delayed journey easier. Selecting the Key as a ticket type will automatically fill your Key smartcard number saving you have to fill in details from a paper ticket and upload a photo.
Gaps in the Network
The Key works at all the Great Northern and Thameslink stations between where I commute from in Hitchin and London Terminals (Moorgate, Kings Cross, St Pancras) it also works at the central Thameslink stations.
But there are some stations served by Thameslink that you can't use the Key to get to such as Cambridge and Peterborough. These stations are managed by different companies and sometimes have multiple services to them, each with different fares. Thameslink provide a PDF map to show where a Key card can be used1.
Smartcards systems in Britain are very fragmented. Other transport companies have smartcards that use the same ITSO standard as the Key but you can't use one card across different networks.
You can only use the Key on the Underground and other TfL services if you already have a season ticket on the Key that includes London travel. You cannot use the KeyGo for pay-as-you-go travel across all London Transport like you can with an Oyster or contactless card.
KeyGo
KeyGo is the name for the pay-as-you-go version of the Key. Unfortunately, I've had a lot more problems with using this and I wouldn't recommend it to others without checking every journey they make, especially if they are likely to make return journeys that don't start and end at the same station.
Problems with Card Readers
I've had a few problems with card readers not working; The wide barrier at Hitchin opens for my Key card but doesn't register the tap. There's a card reader at Finsbury Park that doesn't accept my Key card so I have to find another. Sometimes during busy times, the barriers are opened in a way that means they no longer accept Key cards. On other days the Key Card may just not work at certain stations2.
If your tap isn't registered you will be left with an incomplete journey. You may be overcharged unless you correct it. This can normally be done online, but sometimes requires a phone call. I've found that most simple return journeys will now auto-complete correctly if they are just missing a single entry or exit.
I understand that things are going to go wrong but I've never had as many problems with Oyster or contactless cards on TfL services.
Overcharging of Return Journeys
... all your entry and exit taps across the network will be analysed to calculate the best day fare for your journeys based upon the tickets you could have purchased that day.

from the KeyGo website
KeyGo promises that you won't be charged more than you would be for common tickets that you could buy on the day3. I've found this isn't the case and often have been overcharged for my return journeys.
To help understand why this isn't an easy task and the Key may be getting it wrong let's look a small slice of the rail network:

                              Finsbury      St
   Hitchin   Stevenage          Park      Pancras
      |          |                |          |
      +----------+----------------+----------+


If I wanted to travel from Hitchin to St Pancras and back again, a Hitchin to St Pancras return ticket would let me do this.
With the same ticket, I could instead start my outward journey from Stevenage (known as 'starting short'). Or I could end my outward journey at Finsbury Park ('ending short'). Or I could break my journey at Finsbury Park and have some lunch before going on to St Pancras. The Hitchin to St Pancras return ticket would be valid for all these journeys and would still be the cheapest ticket I could buy.
[for non-advance tickets and unless otherwise stated] you may start, or break and resume, a journey (in either direction in the case of a return Ticket) at any intermediate station, as long as the Ticket you hold is valid for the trains you want to use ... You may also end your journey (in either direction in the case of a return Ticket) before the destination shown on the Ticket.

from the National Rail Conditions of Travel
I have found that when I start short, end- short or break my journey with the KeyGo I'm often overcharged. Either I'm charged for two more expensive single tickets or I'm charged for a Travelcard which includes unlimited travel within London as well as my journey to London. This can add more than £10 to the cost my travel for a day.
Things get more complex once you start considering journeys that are part peak and part off-peak or have multiple legs. The Key can get these wrong too. Disputing these charges can be difficult as there's not a journey planner you can use to check the price. Instead, you have to translate your journey to single & return tickets and check any restrictions that apply.
Oyster has a very similar pay-as-you-go system but has managed to avoid this complexity by removing return tickets. All fares are based on single tickets with capping calculated at the end of the day/week. This also makes it possible to look up the cost of any journey with their single fare finder.
Will the Key get better?
There's currently a consultation open for extending pay-as-you-go in the South East of England. This proposes creating a single, larger pay-as-you-go area for the South East. One of the suggested changes is to make return tickets cost the same as two singles. This could make the fare system more like TfL's and could remove a lot of the complexity around calculating the best ticket. It may mean some ticket prices could increase but consultation doesn't go into details as to how much.
It will be a while before a new system is put in place and it will likely be done in stages, with those closest to London benefiting first.
Until then, using the Key may be convenient for you. If you decide to try the KeyGo I recommend checking how much you're charged for every journey.
The KeyGo has a slightly different, more restrictive validity than the Key. Notably, you can use tickets on the Key card to travel on any services between the stations on the map while the KeyGo can only be used for some operators. For example, you could use a ticket on the Key for a journey between Stevenage and London Kings Cross using LNER but you can't use the KeyGo for the same journey 😣. ↩

This week my Key card hasn't been working at Stevenage station. The staff at the gate told me that a software update went wrong and the Key seems to no longer work at the station. ↩

The tickets listed are: "Peak, Off-Peak Day and Super Off-Peak Day single and Day return routed 'Any Permitted', 'Southern only', 'Thameslink only' and Oyster fares for journeys made wholly within the London zones 1-6". ↩